Products
We are proud to offer a variety of Comdial products. For more information, please visit Comdial's website, or select a product from the list below.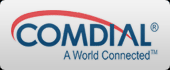 Services
Wilson Group provides the following services:
Installation Planning, Implementation, & Follow-up: Our technical department is involved with every step of the planning process to help you determine which features will be most valuable to your operation. They then program and configure the system to meet your needs. All equipment is set up and tested in our office prior to installation, thereby greatly minimizing the on-site time required for set up. Depending upon your needs, installation can be scheduled for evenings or weekends. Following installation, our technicians are on-site to answer any questions and trouble-shoot any issues that may arise.
Training Classes: Training classes are conducted just prior to or immediately following the new system installation, and are developed to address each customer's specific needs. This ensures employees will be well-versed in the operation of their telephones as well as how to take advantage of the many new features available to them.
Warranty Service: We are pleased to offer a two-year warranty on all telephony equipment and a one-year warranty on voice mail system parts. For a period of one year from the installation date, we will perform all necessary maintenance to keep the system in good operating condition, including furnishing all necessary labor and materials (this warranty does not include equipment that has experienced misuse, theft, vandalism, or acts of nature).
Emergency Service: If you have an emergency (defined as the inability to make or receive calls), we are on the road immediately. Based on our location in the Bay Area, we will generally be there within two hours. After normal business hours, we use an answering service that has immediate access to all of our personnel.
Adds, Moves, & Changes: In order to be as responsive to service calls as possible, we ask that routine requests be scheduled with as much advance notice as possible. As a matter of course we are able to respond within five to ten working days. If you do have an urgent need, we are always pleased to accommodate.
For more information about the services Wilson Group offers, please feel free to contact us at the phone number or e-mail address above.